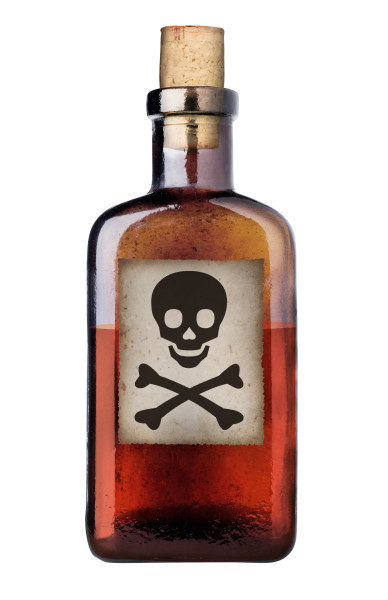 The Federal Government on Monday said it would immediately commence a nationwide confiscation and destruction of unregistered locally produced gin (Ogogoro), bitters and other illegally brewed alcoholic beverages.
This was conveyed at a joint news conference organised by the

National Agency for Food and Drug Administration and Control (NAFDAC)

and the

Nigerian Centre for Disease Control (NCDC)

in Abuja.
He said previous and ongoing investigations by NAFDAC in collaboration with other partners had linked the "mysterious" deaths in Ondo and Rivers states to the methanol contamination in the local gin.
Orhii advised members of the public to desist from consuming the locally brewed spirit and urged them to report to relevant authorities any sale or distribution of the drinks.
"As part of measures adopted to arrest the ugly situation, NAFDAC will confiscate all illegally brewed beverages while Nigerians should assist government by reporting the sale or distribution of such drinks. We are also warning members of the public to avoid the consumption of all kinds of locally produced spirits, unregistered bitters and related drinks for now,'' Orhii said.
He said NAFDAC has launched an investigation to unravel the source of the methanol used in making the drink that had already claimed more than 50 lives in less than three months.
According to him, the result of the laboratory investigation in the Ondo state incident revealed methanol toxicity, noting that all victims had exhibited symptoms related to methanol poisoning.
He said high concentration of methanol contained in the local gin (Ogogoro) was unwholesome and unfit for human consumption hence the need for Nigerians to avoid it.
Orhii ruled out any possibility of deliberate intent to take a life, stressing that methanol toxicity could be caused by over – fermentation or over – concentration of the drink by their producers.
On his part, the Coordinator, NCDC,

Abdulsalam Nasidi

, reiterated the need for Nigerians to stop the consumption of local brews for now.
According to Nasidi, it is wise for Nigerians to distance themselves with anything that has to do with local gin until the source of the methanol used in its production was identified.
He warned that the situation could spread to other states as more areas in Rivers had reported new cases as at Monday June 8, 2015.
He said the development should be of concern to all state governments given the high rate of local gin consumption especially in rural parts of the country.
He called on state governments to collaborate with the Federal Government in establishing treatment centres and sensitising Nigerians in the bid to contain the situation.
However, Nasidi expressed confidence that with the growing awareness the situation would be adequately arrested.
The News Agency of Nigeria (NAN) recalls that deaths linked to the consumption of ogogoro has hit over 50 with about 20 recorded in April in Ondo state and 38 more recorded in Rivers as at June 8.