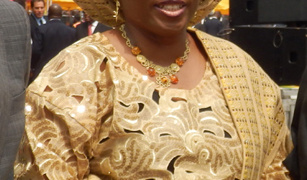 Erelu Bisi Adeleye-Fayemi, wife of the immediate past Governor of Ekiti State, Dr. Kayode Fayemi, said he attention has been drawn to a fabricated report by a certain "The Splash", wherein the reporter quoted her as using a derogatory term to describe Ekiti State people.
Fayemi was reported to have referred to Ekiti State people as mari maje (juice lickers) in the purported interview, which circulated on some online platforms.
But she denied ever using such words.
In a statement

on Wednesday

, Erelu Fayemi said it was the figment of the imagination of the reporter as she never granted any interview.
The statement said: "It is important to place on record that the malicious report is nothing but a figment of imagination of the reporter as Erelu Fayemi never granted any interview to any newspaper, magazine or online media neither did she describe Ekiti people in a derogatory manner in any of her engagements.
"The writers of the malicious report were apparently out on a mischief mission.
"For the avoidance of doubt, It is on record that Erelu Fayemi, Co-founder of the African Women's Development Fund, delivered a lecture at one of the funeral programmes for Mama H.I.D Awolowo.
"She didn't call Ekiti people any name in her speech at the occasion neither did she mention anybody's name. Her paper at the event titled "The Role of Political Spouses in Our Evolving Political Space", was well circulated in major newspapers and online platforms and none of the things ascribed to her in the news report was there.
"Erelu Fayemi, a highly respectable Ekiti woman by marriage has always held Ekiti people in high esteem and will never denigrate her own people no matter what.
"Members of the public are hereby urged to disregard the publication, which is nothing but a fabrication by some mischief makers and purveyors of lies."