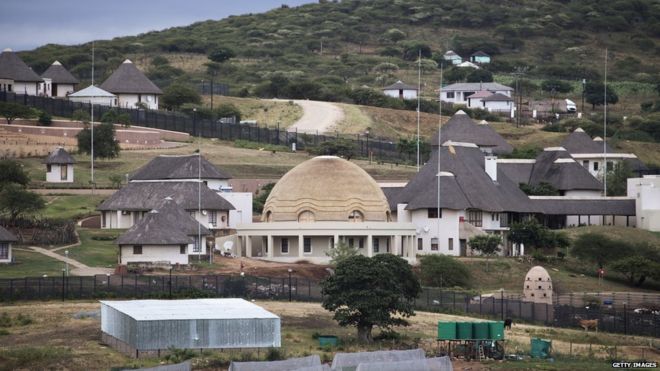 South Africa's President Jacob Zuma has agreed to repay some of the $23m (£15m) the government controversially spent on upgrading his private rural home.
In 2014, a report by the public protector said Mr Zuma "benefited unduly" from the upgrades.
Mr Zuma said the auditor-general and finance minister should determine how much he should repay to end the dispute.
The announcement comes a week before a constitutional hearing on the matter.
The refurbishment of the residence in the village of Nkandla, in Mr Zuma's home province of KwaZulu-Natal, has turned into a major political controversy in South Africa.
Some of of the money was spent on building an amphitheatre, swimming pool, and cattle enclosure.
---
Spending on presidents' private homes:
PW Botha: $16,100
FW de Klerk: $22,000
Nelson Mandela: $2.9m on two residences
Thabo Mbeki: $1.1m
Jacob Zuma: $23m on rural Nkandla residence
All figures in 2013 financial terms
Source: Public protector report
---